Is a 203K Loan Right for Your Michigan Home? Learn About How You Can Finance a Complete Home Transformation with Our Help.
---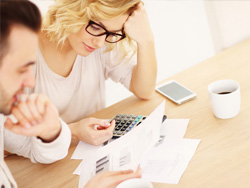 Congratulations! If you're having difficulty finding the perfect house for you and your family, you've come to the right place.
You may have come close to finding what you want in the price range that your working within but something just isn't quite right with that kitchen, worn flooring - or maybe it's time to update that energy hog of a heating system.
Well, we have good news for you. Whether it's painting, new appliances, storm windows and doors, or basement remodeling, Section 203k loans enables homebuyers and homeowners to finance up to an additional $35,000 of repairs for updates and improvements into a single mortgage. It can even be used to make accessibility upgrades for persons with disabilities.
---
The Three Biggest Advantages to an FHA 203K Home Loan
1. Get a Great Return on Investment. It's not uncommon for home improvements made with a 203K loan to provide double the return on investment. For every $1.00 invested in the property, you can expect $2.00 in value added to the appraisal of your home when improvements are finished.
2. It's Easier to Seal the Deal. Sellers who need to make improvements under some mortgages such as HUD 203 B may be required to make improvements before closing, but don't have out of pocket expenses for those required fixes. When a buyer stipulates a 203K home loan in a purchase agreement, the change for acceptance by the seller is increased since there are no offsets that need to be paid by the seller.
3. You Can Makes Improvements Sooner at a Lower Interest Rate. Instead of having to wait for years to make an improvement after owning a home and paying as much as 23.9% Annual Percentage Rate (or an even higher rate) a buyer can now enjoy the improvement as soon as they move in at an extremely low rate (about 4%) that is spread over the life of the loan. Since it is part of the mortgage, it is tax deductible, and all of this with a minimal 3% down payment!
---
Getting Started with Your 203K Loan
The first thing you want to do is find a property that is "almost" your ideal home. Then when you are ready to submit an offer it should state you are seeking a 203k home loan for the improvements that are necessary. After that you need an approved FHA 203k lender who will help you with a proposal that puts together a detailed and approved format that shows the cost of labor and materials for each improvement and repair. The contractor that is chosen by you and your lender is the one that puts this information together after working with the homebuyer and lender.
As long as the repairs and improvements are below $35,000.00 including contingency and the property cost to be owner-occupied, then the buyer is eligible to use a streamlined loan. Your lender will determine the new loan amount with the equation: below the cost of repairs and improvements + the purchase price = new loan amount or up to 110% of the after improved value (whichever is less). At this point, your lender will have the property reappraised to reflect the increase in value to the property after the repairs and improvements are completed.
---
FHA List Infractions – FHA Items for 203k
Requirements:
Open wires
Open plumbing
Drywall holes
Unfinished flooring
Cracked windows
Peeling paint
Sink/faucets - hooked up?
Cracked tiles
Mold
Water in basement
Rotted wood
Water damage
GFI's
Missing doors/knobs
Missing kitchen/vanity
Roof
Unfinished siding
Trip hazards
Handrails
Tuckpointing on chimney or porch
Other Items Often Chosen:
Paint
Hot water tank
City certification
Carpet/tile
Furnace & A/C
Windows
Appliances
Granite
Downspout extensions
Screen doors/ext doors
Kitchens
Roof/gutters
Hardwood floor refinished
---
To schedule a free consultation where you can discuss your vision, or learn whether a 203K loan is right for you, contact us today at (248) 677-0551 to speak to a member of our team.*
*To be clear, we are very familiar with renovation loans, but we are a contractor, NOT a lender. We can refer you to several spectacular renovation lenders, if you need one.